The Society of Will Writers
The Society of Will Writers is a non-profit making self regulatory organisation which promotes to the public the real need in having a valid Will; and serves Will writing practitioners through stringent membership requirements, proficiency standards and on-going training.
The Society of Will Writers was established in 1994 as an independent body representing the professional Will writer and the interests of the consumer. Today, the Society is the largest Will writing trade body and has many members.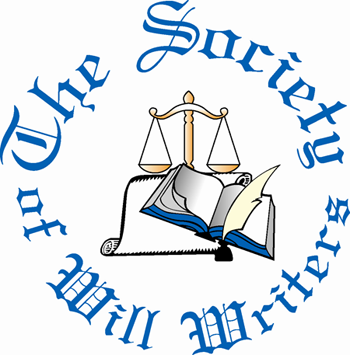 Why should you use a Society of Will Writers member?
All members hold professional indemnity insurance with a minimum cover of £2 million.
All members adhere to a complaints procedure.
All members are entitled to technical support to ensure they offer the best service to their clients.
All members need to pass a stringent application process, and pass an examination.
All members are bound by The Society's code of conduct.
All members continue to train on a yearly basis.
It is important to note that Society of Will Writers members are will writing specialists who deal almost exclusively with one area of law – succession planning; and as such, are best placed to offer specialist advice.
There are many Will writing individuals and Will writing companies, but it is vital to choose one that is competent, professional and has the appropriate expertise and experience. All Society of Will Writers members go through a stringent vetting procedure and continuing training to ensure that they are able to write Wills properly.
The will writing industry is unregulated, so anyone can call themselves a will writer. However only a properly trained professional can ensure that your Will will be correctly drafted. If you are shopping around for a Will, it is something you need to consider, and you should ask yourself why risk your entire estate by having a Will drawn up by anyone other than a trained professional.
Here at Quick Will, we are proud to be full members of the Society of Will Writers and naturally we fully comply with all membership requirements.
Maybe now is the time to call upon this expertise and create a Will knowing you are in safe hands with a full member of the Society of Will Writers.